Latest News
AHATA DISTRIBUTES POST-COVID "BEST PRACTICES" TO HOTELS


AHATA DISTRIBUTES POST-COVID "BEST PRACTICES" TO HOTELS
Aruba Hotel & Tourism Association has created a "Best Practices" document for local hotels to prepare for post-lockdown reopening. After researching recommendations by CDC, WHO, Aruba's Health Department and new international corporate hotel standards, AHATA has created a list of new norms for cleaning and disinfecting different areas of the hotel as well as physical distancing protocols. The guidelines also include behavioral rules for employees on property, how to approach guest interaction, and new hygiene standards for Post-COVID hospitality. The Best Practices introduces new cleaning practices as well as physical distancing requirements for different areas including restaurants and casinos. With new norms established by the AHATA "Best Practices" document, Aruba hotels can assure future guests that the island's hospitality includes enhanced assurances for their health and safety.
Papiamento:
AHATA TA INTRODUCI NORMA NOBO PA HIGIENA
Aruba Hotel & Tourism Association a produci un documento pa guia hotelnan na Aruba den preparacion pa reapertura despues di COVID-19 lockdown. Despues di investiga y acumula recomendacion di CDC, WHO, Departamento di Salubridad y instancia hotelero internacional, AHATA a crea un guia pa norma nobo pa diferente area den hotel. E guia ta recomenda rekesito pa distancia fisico, presencia di empleado, intercambio cu huesped, y pa limpieza y desinfeccion di e facilidadnan. E normanan nobo ta pa implementacion den tur departamento, incluyendo restaurant y casino. AHATA su guia ta yuda Aruba brinda siguransa na nos bishitantenan den futuro cu nos hospitalidad ta inclui higiena y proteccion di salud.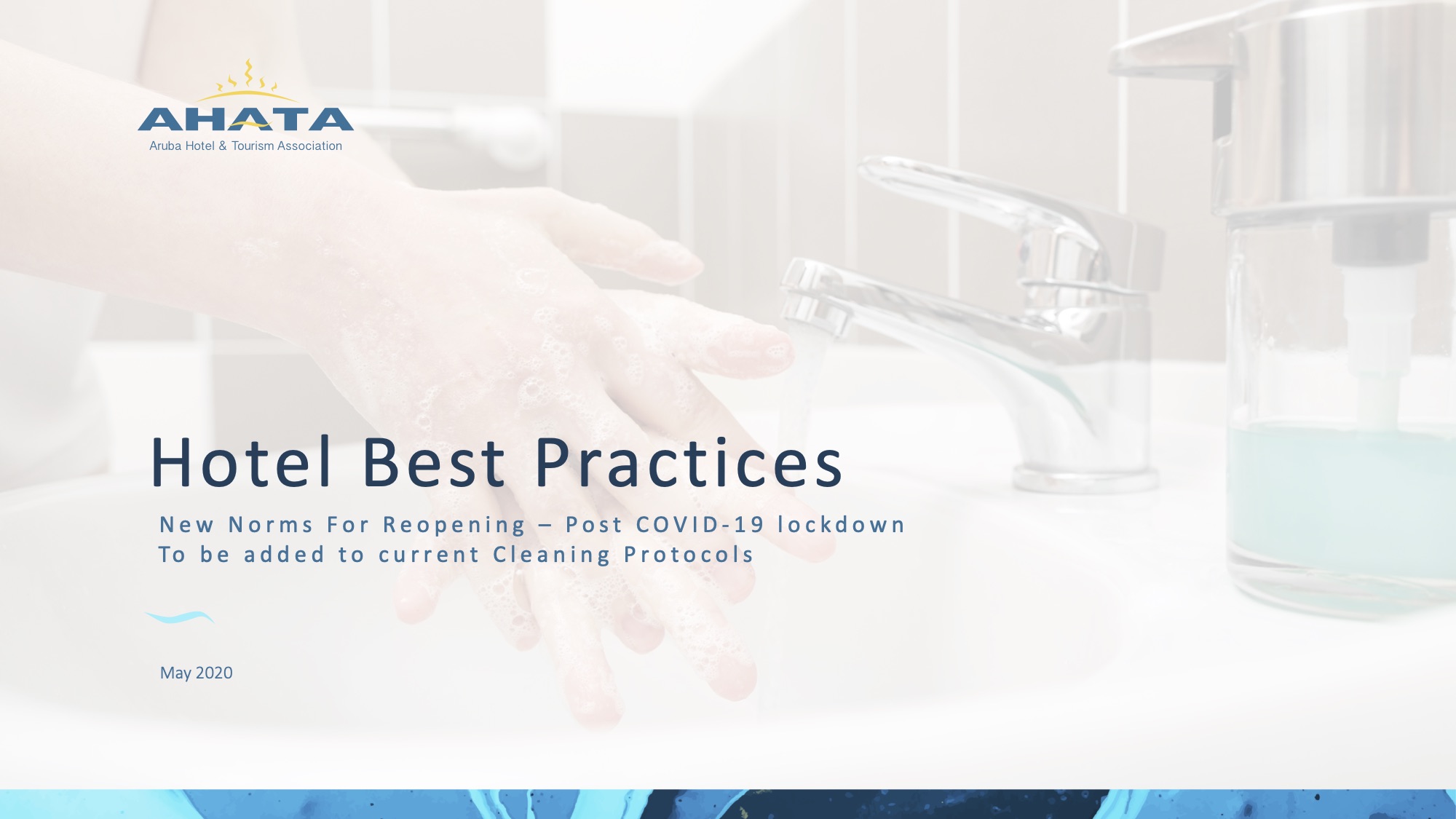 Posted on May 05, 2020