Latest News
AHATA: 2019 Hotel Manpower Results
Aruba Hotel & Tourism Association (AHATA) notes that there are many misperceptions in the community regarding employment in the hotel sector. The challenge with unsubstantiated information being quoted and repeated in the community is that incorrect negative perceptions can discourage our hospitable and qualified residents to work in the hospitality industry. Consequently, service can suffer and eventually the island's reputation suffers. In addition, the lack of local applicants for open positions makes it necessary to fill these open positions with immigrants whom require work permits.
AHATA considers it important that the community's conversation on employment in the hotel sector be based on actual data rather than on anecdotes and rumor. Hotels and Timeshare hotels that are members of AHATA share information with the association to ensure that accurate data can be published in a consolidated manner.
The most recent data gathering done by AHATA is a manpower study of 22 hotel and timeshare members. The 22 member hotels represent 7,155 rooms and 7,562 employees total. By publishing the results of this study, we wish to offer a true and clear picture of certain data relating to employment that is frequently misstated.
The most significant statistics show that currently 84% of the 7,562 total employees are residents that do not require a work permit, and 3% of the employees are earning minimum wage (of which most additionally earn significant amounts in untaxed tips).
AHATA is grateful to its members for sharing this confidential information so reports with accurate information can be shared with the community. The hotel members included in the report are: Amsterdam Manor Beach Resort; Aruba Marriott; Barceló Aruba; Brickell Bay Beach Club; Boardwalk Hotel; Bucuti & Tara Beach Resort; Divi All-Inclusive Resort; Divi Aruba Phoenix Resort; Divi Dutch Village Resort; Eagle Aruba Resort; Holiday Inn Aruba; Hyatt Regency Aruba Resort; La Cabana Beach Resort; Manchebo Beach Resort; Marriott Ocean Club; Marriot Surf Club; Renaissance Aruba Resort; The Ritz-Carlton Aruba; RIU Palace Aruba; RIU Palace Antillas; Talk of the Town Hotel and Tamarijn All-Inclusive Beach Resort.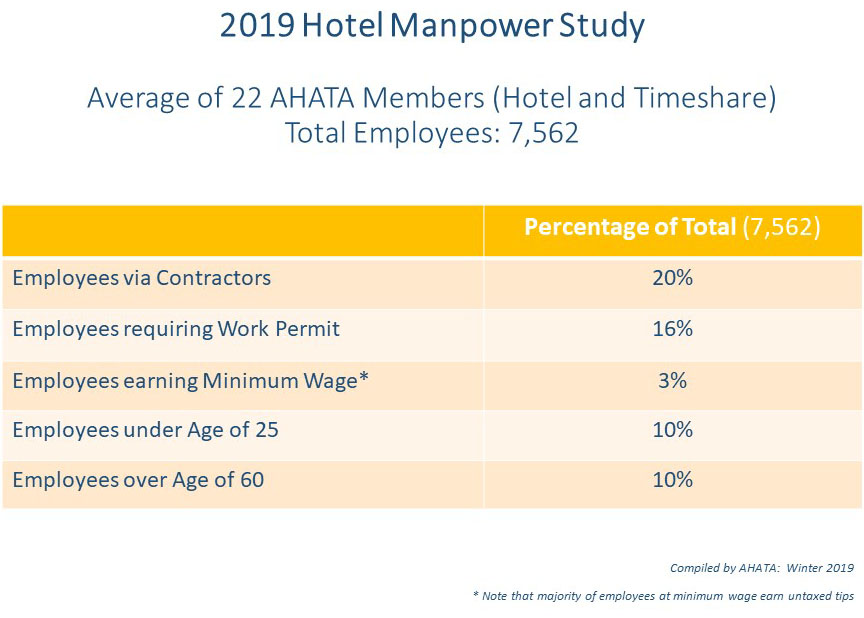 Posted on May 29, 2019