Latest News
Enormous Hotel Donations
Aruba Hotel & Tourism Association (AHATA) has existed for 54 years and currently has 23 Hotel and Timeshare members, in addition to 83 Allied members. AHATA has taken inventory of the contributions that its member hotels made to the community in 2018, in form of donations and volunteer work.
The AHATA hotel members supported the community enormously with financial and in-kind donations of 3.5 Million Florins. In addition, the employees of the hotels organized many charitable projects and fulfilled more than 73,500 volunteer hours to help specific individuals in need and local organizations.
More than 115 organizations in the Aruban community received support from the hotels that are members of AHATA. These organizations include:
Animal Rights Aruba

Aruba Baseball Organization

Aruba Doet

Aruba Fire Department

Aruba Little League Raffle

Aruba Reef Care Foundation

Aruba Triathlon

Arubaanse Kunstkring

Ateliers '89 Foundation

Back To School Program

Baracuda Swimming Team CAC

Body Building Hemradj Mulai

Brazil Jrs Soccer Team

Breast Cancer Research Foundation

Camp Campaign

Cas di Cuido Alegria

Cas di Machi

Cas Speransa Nobo

Casa Cuna

CBN Basball Team

Centro Colorado Aruba

Centro di Motivacion

Centro Kibrahacha

Centro Man Na Obra

Club Kibrahacha

Colegio Hilario Angela

Colegio Laura Paskel

Colegio Laura Wernet

Colegio Sagrado Curazon

Colegio San Antonio

Colegio San Jose Parent Organization

Colegio San Nicolas

Dakota Stars

Donkey Sanctuary

EPB

EPI

Family First Foundation

FAVI

Fiesta Rotaria

Foundation for Mentally Disadvantaged

Funari Aruba

Fundacion Anti Droga Aruba

Fundacion Duna Man

Fundacion Hende Muher den Dificultad

Fundacion Judami

Fundacion pa Maneho di Addiccion Aruba

Fundacion Pa Nos Comunidad

Fundacion pa Personanan cu Deficiencia Intelectual

Fundacion Paraiso

Fundacion Vision pa Futuro Funds

Fundacion Donny Lacle

GLW Foundation

Grupo Scout St. Paulus

Hesus e Biña Nobo Church

Huize Maris Stella

IBERO American High School

Imeldahof

Impact Blue

Instituto Pedagogico Aruba

Ja Ik Foundation

Jacintha Kleuterschool

Joepi Camp Centro di Bario Playa Pabou

Kids Council

Kiwanis Club

KPA Korps Politie Aruba

Lillyputters Day Care Center

Little League Aruba

Little Lunah Rijksen

Long Table Charity Event

Maristella

Mary Joan Cancer Foundation

Misa Birgen di Fatima Dakota

Monumenten Fonds

Parochia Immaculata Concepcion

Parokia Birgen di Fatima Dakota

Pastor Jacobs

Pius-X School

Poder Pa Hubentud

Positive Foundation

Red Cross

Reef Care Foundation

Ronde van Aruba

Rotaract Club of Aruba

Rotary Golf Tourment

SABA

Scholorship Program

Scol Caiquetio

Scol preparatorio Aterima

Scout Casibari J.L

Scouting Aruba

Scouts Cacique Macaurima

Sgt. Pepper's Friends

SKOA

SPO Scol Pa Ofishi

Sponsor a Mile

St. Michael Paviljoen

St. Paulus Elementary School

Stichting Amanda

Stichting Dilanti cu Noni

Stimami Steilisami Program

SV Estrella

SV La Fama King Day

Telefoon pa Hubentud

The Summer Kamp

Trampolin Day Care

TurtugaAruba

University of Aruba

Vereninging Sonrisa

Voedsel Bank

Wilhemina Cancer Funds

Wit Gele Kruis

Womens Club Of Aruba

YMCA

Hotels contribute primarily to our economy through the employment generated by the sector. In addition, the management teams of the local hotels want to be part of the solution to the social problems of our island. For these reasons, AHATA hotels give money and time to support our community.
The hotel and timeshare members of AHATA are: Amsterdam Manor Beach Resort; Aruba Marriott Resort; Barceló Aruba; Brickell Bay Beach Club; Boardwalk Hotel; Bucuti & Tara Beach Resort; Divi All-Inclusive Resort; Divi Aruba Phoenix Resort; Divi Dutch Village Resort; Eagle Aruba Resort; Holiday Inn Aruba; Hyatt Regency Aruba Resort; La Cabana Beach Resort; Manchebo Beach Resort; Marriott Ocean Club; Marriott Surf Club; The Mill Resort; Renaissance Aruba Resort; The Ritz-Carlton Aruba; RIU Palace Aruba; RIU Palace Antillas; Talk of the Town Hotel; and Tamarijn All-Inclusive Beach Resort.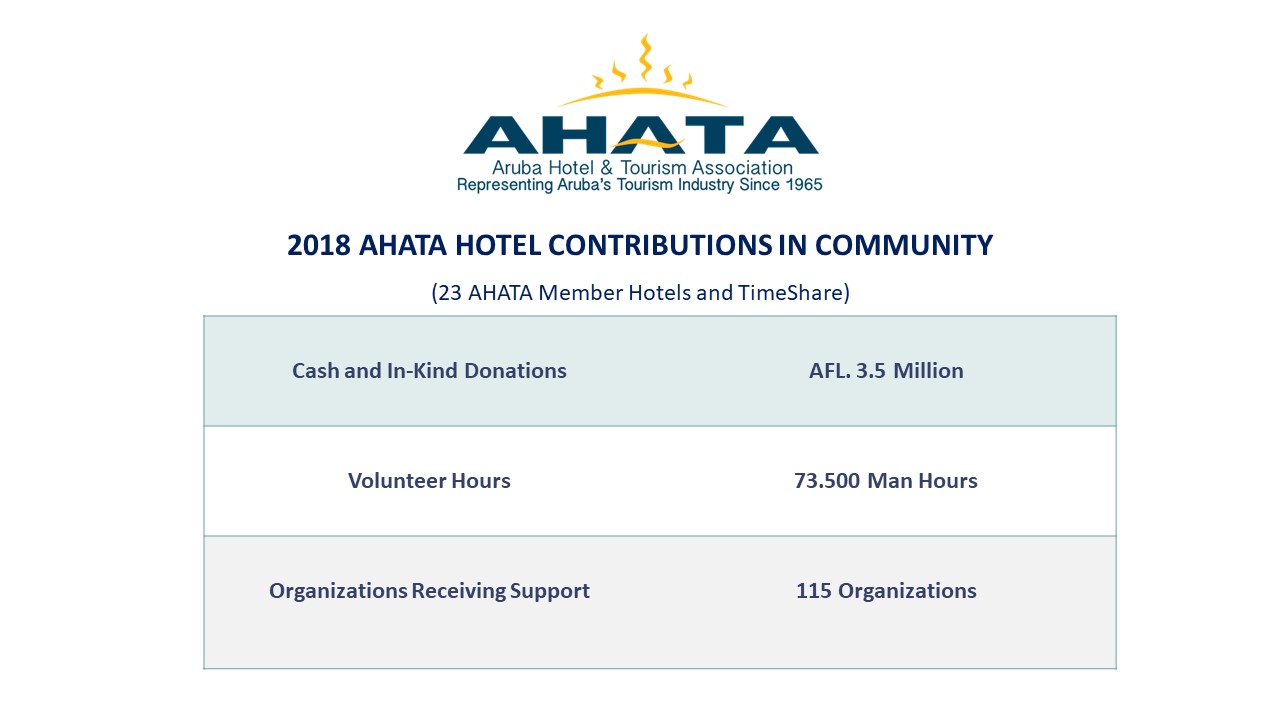 Posted on Mar 22, 2019